Stephanie M Langford's Fundraising Page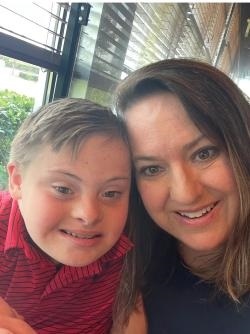 I'm excited to join the Lace Up for Down Syndrome team. I'm inspired by Daniel Chaplin who is the visionary behind making this team happen. Daniel has run many 1/2 marathons and is currently training for a full marathon. He is also a great ballroom dancer and doesn't let the fact that he has Down syndrome stop him from following his dreams. He wants to inspire others to get moving and that is exactly what he has done for me. This team will run races around the Birmingham area supporting other nonprofits and Down Syndrome Alabama(DSA). When I joined the team I committed to raising $120 for each 5k I register for that we have teamed up with to support. There is a 25/75 split. 25% goes to the nonprofit hosting the 5k and 75% to DSA. If you feel moved, I would appreciate your donation to help reach my fundraising goals and support these great nonprofit organizations. Thank you!
ABOUT LACE UP for DOWN SYNDROME
LACE UP for DOWN SYNDROME is a new year round fundraiser that you can support by lacing up your running shoes and joining our team of runners who are entering area races and securing sponsorships through peer to peer fundraising for the races you run. Running experts have teamed up with DSA to provide training and fellowship while you LACE UP for DOWN SYNDROME!
Supporters
Name
Date
Amount
Comments
Judy M. Langford
03/21/2022
$100.00
Paul Lang
03/21/2022
$100.00
Stephanie M Langford
01/19/2022
$35.00
Rachelle Russell
08/27/2021
$100.00
Casey Melvin
08/27/2021
$100.00
Total
$435.00
Report Abuse
Edit My Page